São Paulo: the best things to do in the city
A selection of restaurants, bars, night clubs, plays, museums and walks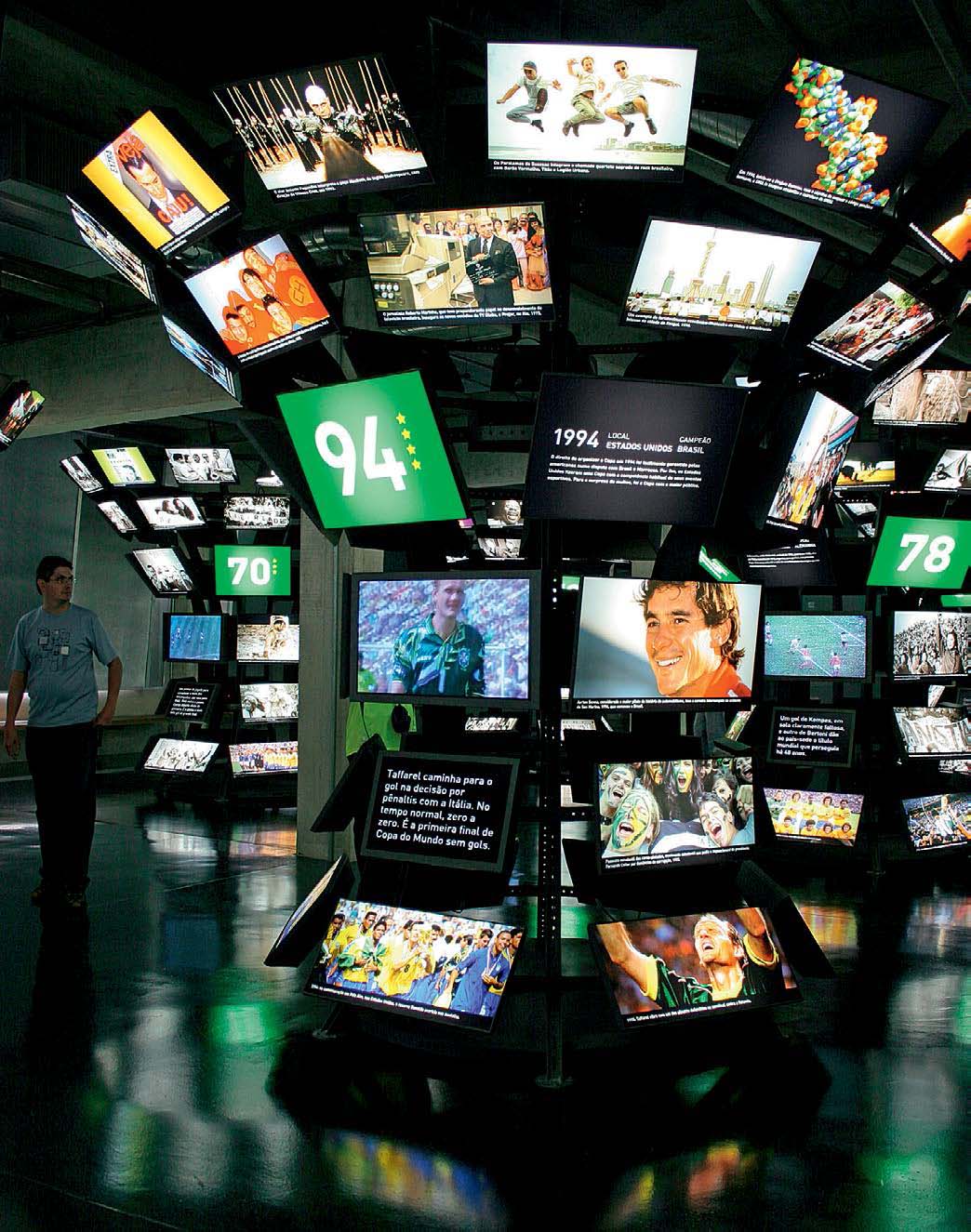 São Paulo has 12,500 restaurants, 15,000 bars, 120 theaters, 300 cinemas and 30 museums, as well as dance halls, places for shows, snack bars, cafés, patisseries, parks etc. The biggest city in Brazil is bursting with action and there is plenty to do there. The world will stop on June 12 for the first game when Brazil takes on Croatia at the Arena Corinthians stadium, known as the Itaquerão. The ground is located in Itaquera in the Eastern Zone, more than 20 kilometers from the center. However, the 68,000 supporters who will attend each of the games will find it easy to get there: just take the metro and get off at the Corinthians-Itaquera station that is near the ground. As there are few other leisure options in the surrounding area, it is best to discover other regions. The following pages present a selection of more than 50 places which highlight the spirit of the city. There are suggestions for football fanatics, of course, along with others for lovers of gastronomy and the arts, those who like to walk during the day and go out and have a great time at night. Take advantage an enjoy yourself!
+ Clique aqui para ler esse texto em português
How to get around: São Paulo trains, buses and the metro all have the same fare, R$ 3.00. The best way of getting around is by metro. If you plan to watch the games at the Arena Corinthians stadium, you should take the Red Line (Linha Vermelha) and get off at the Corinthians-Itaquera station which is near the ground. The Luz, Sé and República stations are the convergence points for the Linha Vermelha and other metro lines. If you prefer to go by taxi, the starting fare is R$ 4.10 and the cost per kilometer is R$ 2.50 (meter 1) and R$ 3.25 (meter 2).
Even a museum is dedicated to football
It is impossible not be caught up in the atmosphere of the Football Museum (Museu do Futebol, Praça Charles Miller, Pacaembu, ☎ 11-3664-3848. Entry: R$ 6.00; free on Thursdays and Saturdays). Its very setting in Pacaembu Stadium gets the atmosphere going. All the attractions are multimedia and interactive. Projectors display giant pictures of idols, such as Pelé, Garrincha, Zico and Ronaldo. One room presents old photos showing the origins of the sport in Brazil. There is plenty of video material showing dribbles, goals and memorable moments from games. The visitor will be really taken by two experiences: the film of supporters cheering their teams like mad projected onto screens underneath the terracing and the viewpoint over Pacaembu´s green pitch. Another room has high definition televisions presenting the history of the World Cup and Brazil´s participation in each one. The backstage events of all the World Cups is also the theme of Brasil 20 Copas, a new documentary shown at the museum.
+ A complete guide for all the host cities
3 good places for selfies
Edifício Copan. This sinuous building dating from the 1950s was designed by architect Oscar Niemeyer and is one of São Paulo´s best-known sights. To get a good picture, stand on the other side of the sidewalk. Tip: go there by metro. Avenida Ipiranga, 200, centro.
Avenida Paulista. This is where everything happens. Paulista, as locals call it, is home to the Masp art museum, cinemas, and bookstores and is a venue for shows, cyclists, street artists, demonstrations… It is always busy. To get a good snap, stand on the central traffic island or the corner of Rua da Consolação.
Monumento às Bandeiras. This granite sculpture by Victor Brecheret is 50 meters long and 16 meters high and stands in front of the Parque do Ibirapuera park. It is a monument to the people of São Paulo who opened up the interior of Brazil in colonial times. Locals call it "Let me push" as it shows a large group of Portuguese, black slaves, people of mixed race and Indians trying to move a boat.
SNACKS IN THE STADIUM
ROAST PORK SANDWIÍCH. The most traditional place to sample the sanduba, as this sandwich is known, is the Estadão snack bar that is open 24 hours a day and is located in the center. The snack consists of a roll containing a piece of meat weighing 150 grams seasoned with onion, peppers and tomato.
• Estadão. Viaduto 9 de Julho, 193, centro, ☎ 11-3257-7121, Metrô Anhangabaú.
HOT-DOG. The Dog Haüs offers hot dogs made with six different kinds of frankfurter. The veal has the firmest skin. After being prepared on the hot plate, it is put into the bread with Dijon mustard and cucumber relish. Another place to try hot dog is the Lanchonete da Cidade where the dois porquinhos version on the menu has a frankfurter and sausage with vinaigrette.
• Lanchonete da Cidade. Alameda Tietê, 110, Jardim Paulista, ☎ 11-3086-3399.
• The Dog Haüs. Rua Bandeira Paulista, 400/406, Itaim, ☎ 11-2361-4725.
ESPETINHO. An espetinho is a kebab in which the meat is presented on a small skewer. They are made with beef heart in the Killa Novoandino. They are also on the menu of Japanese restaurants like Jam which serves versions with fish, vegetables, shiitake mushrooms and shrimp.
• Killa Novoandino. Rua Padre Chico, 324, Perdizes, ☎ 11-98551-8511.
• Jam. Rua Bela Cintra, 1929, Jardim Paulista, ☎ 11-3473-3273.
GASTRONOMY
It is no exaggeration to say that you can eat out for lunch and dinner in São Paulo – and eat well – every day of the year without repeating a single restaurant. These pages present 14 places that are worth visiting.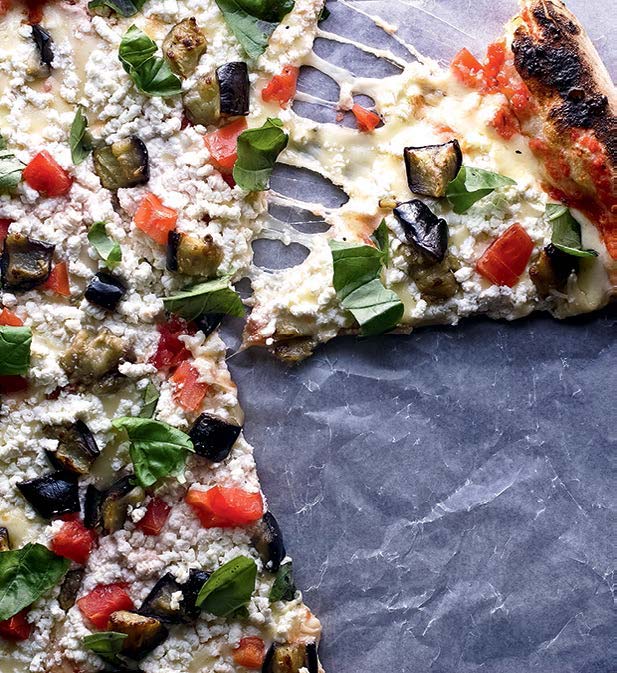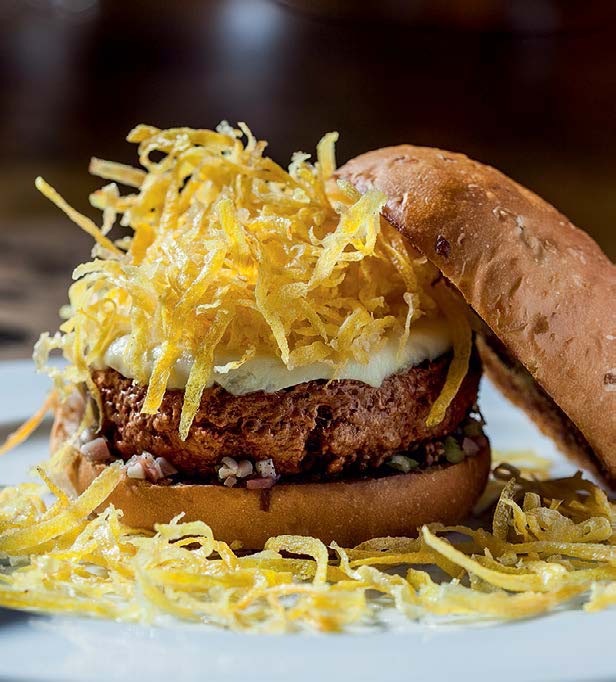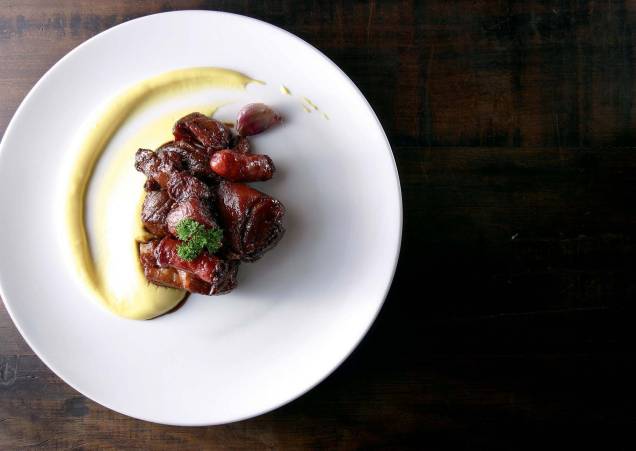 Pizzas for all tastes
There are more than 1,500 pizzerias spread throughout the city. The best is Bráz where the pizzas are made with thick dough and have tasty creative toppings, such as the norma (photo), made with aubergine, mozzarella, toma­to, ricotta and basil. Another recommended place is 68 La Pizzeria which prepares a good pizza made with wild boar sausage and mozzarella.
• Bráz. Rua Vupabuçu, 271, Pinheiros, ☎ 11-3037-7975.
• 68 La Pizzeria. Alameda Tietê, 54, Jardim Paulista, ☎ 11-3081-4327.
Juicy hamburgers
At Meats, chef Paulo Yoller makes big burgers weighing 180 grams and rare inside. They are served in the palha version (photo), with catupiry, chopped coriander, cassava sticks and pancetta bacon. Imagine a hamburger that is 14 centimeters high. This is case with the OT which is served at the Butcher`s Market and has bacon, gorgonzola, pickles and three large breaded onion rings.
• Meats. Rua dos Pinheiros, 320, Pinheiros, ☎ 11-2679-6323.
• Butcher`s Market. Rua Bandeira Paulista, 164, Itaim, ☎ 11-2367-1043.
Japanese precision
There are more than 300 typical Japanese restaurants in São Paulo. Many of them operate a rodi­zio system in which you pay a fixed amount for a non-stop selection of items. Keisuke Egashira (photo) of the miniscu­le Kan is the best sushi man in the city. He makes small chu-toro balls (with the half-fatty part of the tuna), squid with shissô herbs, shrimp etc. The elegant and expensive Kinoshi­ta serves dishes such as organic roe with grilled eel and asparagus.
• Kan. Rua Manuel da Nóbrega, 76, loja 12, Paraíso, ☎ 11-3266-3819, Metrô Brigadeiro.
• Kinoshita. Rua Jacques Félix, 405, Vila Nova Conceição, ☎ 11 3849-6940.
Brazilian selection
Brazil´s rich and diverse cuisine is very well represented in São Paulo. A basic dish is a success in Dalva e Dito. This is the case with its chicken stew that contains pieces of chicken plus okra, pequi fruit rice and farofa flour, served buffet style at midnight on Saturdays. The menu has other options, such as conserved pork with puree aromatized by pequi fruit. Ana Luiza Trajano, the chef of Brasil a Gosto, travels throughout the country to find recipes and reinterprets them. Suggestions include grilled pirarucu fish with coconut sauce, lemon grass, ginger and vegetables, and rabada, pieces of meat stewed in a yellow tucupi manioc sauce served with manioc cream. If you like flavors from the Northeast, chef Mara Salles from the Tordesilhas restaurant offers sun-dried meat in bottle butter plus small onions, baked manioc and maxixe vegetable marinade.
• Brasil a Gosto. Rua Professor Azevedo Amaral, 70, Jardim Paulista, ☎ 11-3086-3565.
• Dalva e Dito. Rua Padre João Manuel, 1115, Jardim Paulista, ☎ 11-3068-4444.
• Tordesilhas. Alameda Tietê, 489, Jardim Paulista, ☎ 11-3107-7444.
Feast for the eyes
A beautiful sight is right at your table in at least two of São Paulo´s best-known restaurants. Customers at A Figueira Rubaiyat try to get a place for lunch or dinner underneath one of the majestic century-old fig trees, the branches of which extend throughout the entire glassed-off dining room and can be seen from the street. You can sample dishes like tucunaré fish encrusted in rock salt and baked in a wood-fired oven. The Kaá restaurant has an imposing wall covered with plants, like a vertical garden that seems to embrace the clientele. In this place with its high ceiling that customers admire, dishes such as tortelloni with burrata butter in tomato sauce, aubergine ragu sauce and rucola leaves can be tried.
• A Figueira Rubaiyat. Rua Haddock Lobo, 1738, Jardim Paulista, ☎ 11-3087-1399.
• Kaá. Avenida Presidente Juscelino Kubitschek, 279, Itaim, ☎ 11-3045-0043.
REFINED MENUS
If one restaurant exists where the terms "sophistication" and "gastronomy" apply like no other, it is the Fasano. It has an elegant atmosphere and dishes are served, such as veal tortelli and parmesan cheese cream with threads of roti sauce. The star chef Luca Gozzani runs the kitchen. From a city with chefs as good as him, two were chosen to play in the world team. Alex Atala came in seventh place in the ranking of the English magazine Restaurant. In his restaurant D.O.M, he prepares tasting menus with dishes such as brandade made with heart of palm, little strips of anchovy and crunchy tapioca in roti sauce. Another outstanding performer is Helena Rizzo who was elected the best woman chef in the world by the same publication. She jumped 10 steps in the ranking which also put her contemporary style restaurant Maní in 36th position this year. She works with her husband, Daniel Redondo, in creating dishes such as ox marrow with peach heart of palm, açaí sauce and spinach.
Continua após a publicidade
• D.O.M. Rua Barão de Capanema, 549, Jardim Paulista, ☎ 11-3088-0761.
• Fasano. Rua Vitório Fasano, 88 (Hotel Fasano), Jardim Paulista, ☎ 11-3062-4000.
• Maní. Rua Joaquim Antunes, 210, Jardim Paulistano, ☎ 11-3085-4148.
NIGHT LIFE
Night clubs, bars and theater shows for all tastes. There are lots of choices to enjoy in the city when the sun goes down. Check out some of them.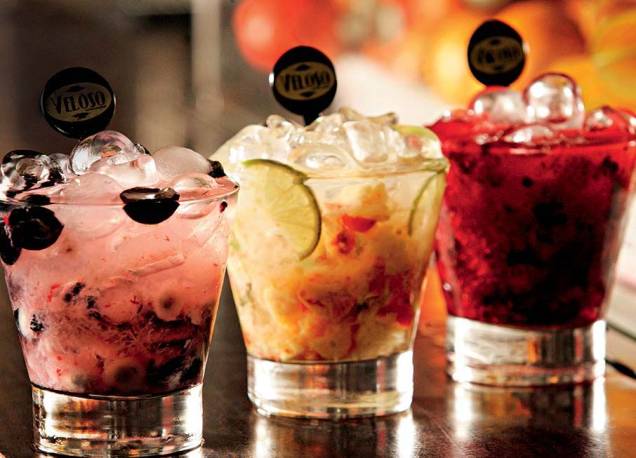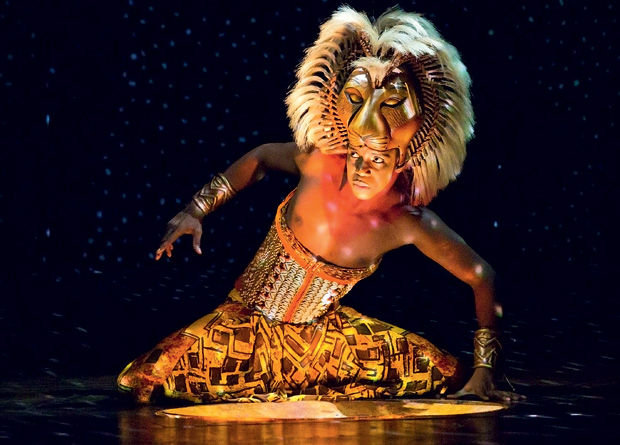 Difficult to drink just one
Fans, or better, devotees of the caipirinhas made by barman Sou­za of Veloso in the Vila Mariana district have put him on a pedes­tal. His cocktails are perfectly balanced with just the right amount of fruit and spirit. The caipirinhas are made with a number of fruits, including jabuticaba, lime with cashew, strawberry with lime etc. The clientele at the Pé de Manga sit under three mangueira trees and sip their caipirinhas including the house special made with vodka and frozen mango.
• Pé de Manga. Rua Arapiraca, 152, Vila Madalena, ☎ 11-3032-6068.
• Veloso. Rua Conceição Veloso, 54, Vila Mariana, ☎ 11-5572-0254, Metrô Ana Rosa.
Havens for Football Fans
Amidst photos, shields, banners and caricatures of the football world, lovers of the game argue over draught beers and caipirinhas as they discuss the latest results at the São Cristóvão bar in Vila Madalena. Football is also the main subject at the traditional Elídio bar in Mooca which serves great cod balls and has a counter of appetizers to make your mouth water. If you fancy this kind of place, another option is the O Torcedor (Supporter) bar in Pacaembu Stadium. A good dish to accompany the draught beer is the artilheiro (pork rib cooked in steam served with a barbecue sauce).
• Elídio Bar. Rua Isabel Dias, 57, Mooca, ☎ 11-2966-5805 e 2021-3097.
• São Cristovão. Rua Aspicuelta, 533, Vila Madalena, ☎ 11-3097-9904.
• O Torcedor. Praça Charles Miller (Estádio do Pacaembu, loja 1), Pacaembu, ☎ 11-3969-0739.
Good plays on during the World Cup
Quem Tem Medo de Virginia Woolf? (Who´s Afraid of Virgina Woolf?). In this great dra­ma, Zezé Polessa and Daniel Dantas play the roles of Martha and George who have been together for 23 years and decide to show their dirty linen in front of another couple. Teatro Raul Cortez. Rua Doutor Plínio Barreto, 285 Bela Vista, ☎ 11-3254-1631. Friday, 21:30; Saturday, 21:00; Sunday, 18:00. Entry: R$ 60.00 (Fri.) and R$ 90.00. (In Portuguese.)
O Rei Leão (The Lion King). The Broadway musical has a great visu­al impact. It tells the story of the lion Simba, heir to the throne of Mufasa. Teatro Renault. Avenida Brigadeiro Luís Antônio, 411, Bela Vista, ☎ 11-4003-5588. Wednesday to Friday, 21:00; Saturday, 16:00 and 21:00; Sunday, 14:00 and 18:30. Entry: R$ 50.00 to R$ 280.00. (In Portuguese.)
Tribos. In this comedy with a large cast, Antonio Fagundes plays the father of Billy (his real life son Bruno Fagundes) who was born deaf. Everything goes wrong when the boy falls for a girl who begins to go deaf in adulthood. Tuca. Rua Monte Alegre, 1024, Perdizes, ☎ 11-3124-9600. Friday and Saturday, 21:30; Sunday, 18:00. Entry: R$ 70.00 (Fri. and Sun.) and R$ 80.00. (In Portuguese.)
CHOOSE YOUR KIND OF PLACE TO DANCE
ELECTRONIC. The perfect choice for fans of this kind of music is D-Edge which has a dance floor with 200 rectangles of light that shine on all sides, giving a 3D effect. It has an unbeatable sound quality and famous international DJs appear here.
Avenida Auro Soares De Moura Andrade, 141, Barra Funda, ☎111-3665-9500, Metrô Barra Funda.
ROCK. Caos is a small club in the middle of the energetic Rua Augusta which operates as an antique store during the day with more than 3,000 products for sale or hire. Things heat up at night and a DJ plays rock and other styles on the crowded dance floor.
Rua Augusta, 584, Consolação, ☎11-2365-1260.
SERTANEJA. Even Brazilian star Neymar has celebrated his birthday at the Villa Mix which is popular with football players. This place has 2,000 square meters of space and the dance floor is circled by booths and two bars. Two attractions take to the stage every night.
Rua Beira Rio, 116, Vila Olímpia, ☎ 11-3044-3241.
WALKS
A list of places and key attractions for those who like to stroll around and enjoy themselves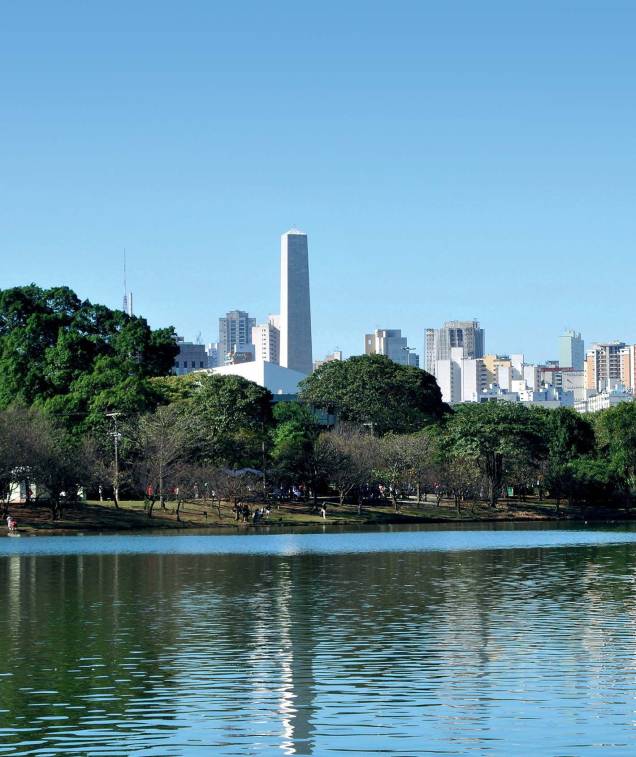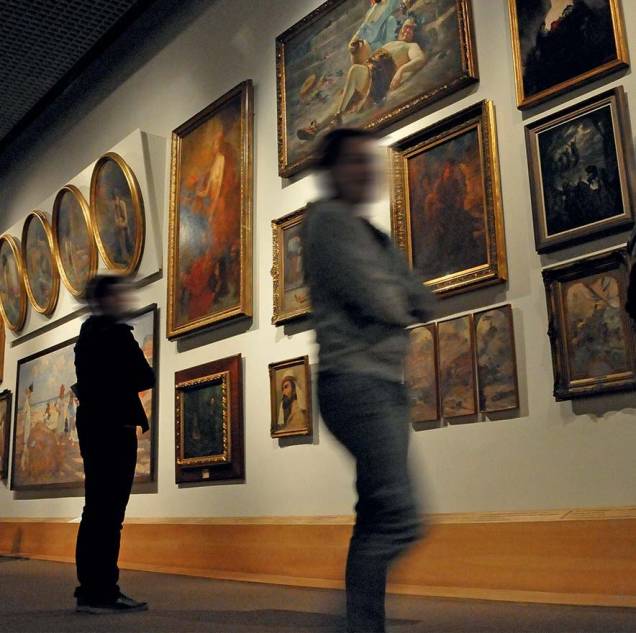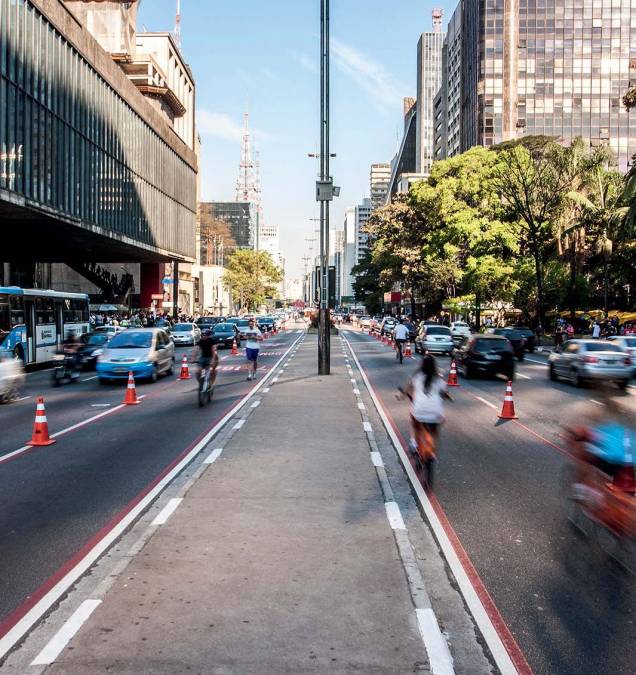 Arts Circuit
Pinacoteca. There is no better place to learn about the history of Brazilian art in the 19th and start of the 20th century. Around 500 works from a collection of 9,000 items are on display on the second floor. There are also important temporary exhibitions. Reserve at least an hour to discover the place and finish off with a coffee in the pleasant open air café. Praça da Luz, 2, ☎ 11-3324-1000, Metrô Luz. Entry: R$ 6.00 (free on Saturday).
Masp. This building, which covers 11,000 square meters and was designed by the architect Lina Bo Bardi, is suspended 74 meters above the ground over an open area. It houses the most valuable and important collection of ar­t in Latin America. It has works by foreign masters like Rafael, Goya, El Greco, Degas, Van Gogh, Picasso, Rembrandt and Velázquez as well as by Brazilians, such as Anita Malfatti and Candido Portinari. Avenida Paulista, 1578, ☎11-3251-5644, Metrô Trianon-Masp. Entry: R$ 15.00.
Portuguese Language Museum. This museum is located alongside the Luz railway station and uses multimedia and interactive attractions to explain the intricacies of the Portuguese language. The Football on the Tip of the Tongue exhibition (Futebol na Ponta da Língua) presents displays that explain the origin of Portuguese words related to the game and will start in June. The museum will also exhibit works by Di Cavalcanti, Cícero Dias and Al­do Bonadei, amongst other artists until July 20. Praça da Luz, s/n, ☎ 11-3322-0080, Metrô Luz. Entry: R$ 6.00 (free on Tuesday and Saturdays).
Ibirapuera, the pride of the Paulistano
This park is the biggest green area in São Pau­lo. It was inaugurated in 1954 during the commemorations marking the 400 years since the city was founded. Parque do Ibirapuera (Avenida Pedro Álva­res Cabral, s/n, ☎ 11-5573-4180) covers 1,500 square meters and has a cycle way stretching for 2.7 kilometers, running track, sports courts, playgrounds and a pleasant lake. It´s a perfect place to pass the afternoon or even a whole day. It contains a number of important cultural institutions, such as the modern and contemporary art museums, Museu de Arte Moderna and Museu de Arte Contemporânea, respectively, the Auditório Ibirapuera auditorium, Bienal and Oca. All of them were designed by the famous Brazilian architect Oscar Niemeyer. Ibirapuera is a kind of beach for the city dwellers and receives tens of thousands of visitors at the weekend.
GOOD SHOPPING
RUA 25 DE MARÇO. Prepare yourself for the bustle of this region. It contains 3,800 stores and thousands of people go there in search of everything imaginable — trumpets to blow during the World Cup, toys, decorative ar­ticles and electronic appliances. Get off at the São Bento metro and walk down the sloping Porto Geral street to get there.
RUA OSCAR FREIRE. At the opposite extreme, Rua Oscar Freire in the Jardins district is the place for fashionable brands and chic shopping. It is a great area to walk, with wide sidewalks, and check out the windows of the 110 stores there.
SHOPPINGS. São Paulo has 53 shopping malls. Some are upmarket and filled with luxury brands, such as JK Iguatemi (Av. Presidente Juscelino Kubitschek, 2041, ☎ 11 3152-6 800) and Cidade Jardim (Av. Magalhães de Castro, 12 000, ☎ 11 3552-1000) while others are more inclusive, such as Center Norte (Trav. Casalbuono, 120, ☎ 11 2224-5959) and Morum­biShopping (Av. Roque Petroni Júnior, 1089, ☎ 11 4003-4132).
A perfect day in São Paulo
MORNING: Take the metro to the Sé station and visit the Catedral da Sé, a fine building in neogothic style. From there, stroll over to the Pátio do Colégio where Jesuits priests founded São Paulo. Have a stop at the Portuguese patisserie and café Casa Mathilde (Praça Antônio Prado, 76, ☎ 11-3106-9605) and then go down to the Viaduto do Chá and take a picture with a view of the Vale do Anhangabaú and another in front of the Tea­tro Municipal. Have lunch in the Bar da Dona Onça (Avenida Ipiranga, 200, ☎ 11- 3257-2016) at the foot of the Edifício Copan building.
AFTERNOON: It is worth taking a walk along Avenida Paulista. A tip is to get off the metro at the Trianon-Masp station and visit the Mu­seu de Arte de São Paulo, Masp, a museum in an iconic building designed by architect Lina Bo Bardi which has an incredible collection. From there, walk along to the Fiesp (numbe­r 1313) which usually has some good exhibitions on and then stroll to the Con­junto Nacional (number 2073), another symbol of Avenida Paulista, where there are bookstores, cinemas, cafés and shops.
NIGHT: If you like the night life, start with dinner at the Spot restaurant (Alameda Ministro Rocha Azevedo, 72, ☎ 11-3283-0946). This is a place to see, be seen and sample dishes like penne with melon cubes. Afterwards, it´s time to stop somewhere and have a drink before going dancing. To save time, stay in this region. Rua Augusta has options for all tastes, such as the Z Carniceria bar (number 934, ☎ 11-2936- 0934), Beco 203 where shows are put on (number 609, ☎ 11-3774-0358), the Astronete (number 535, ☎ 11-3151- 4568) and the stand-up Comedians bar (number 1129, ☎ 11-2615-1129).
Discover the city by bike
Bikes take over São Paulo on Sundays and holidays from 07:00 to 16:00. There are more than 120 kilometers of traffic-free lanes that cut through large roads in all areas of the city, such as Avenida Paulista. This is an interesting way to get to know the metropolis if you have the time. There are two places where you can rent bikes exclusively for the cycle ways (www.ciclo­faixa.com.br): t Praça do Ciclista at the corner of Avenida Paulista with Rua da Consolação, and the Parque das Bicicletas in the Ibirapuera region (Alameda Iraé, 35, Moema). There is also another service (www.mobilicidade.com.br/bi­kesampa.asp) with more than 100 points throughout the city.
Continua após a publicidade