Cake Boss's new business in Brazil
A trip through São Paulo with celebrity baker Buddy Valastro, who arrived here to tape a reality show and prepare the first international location for his culinary chain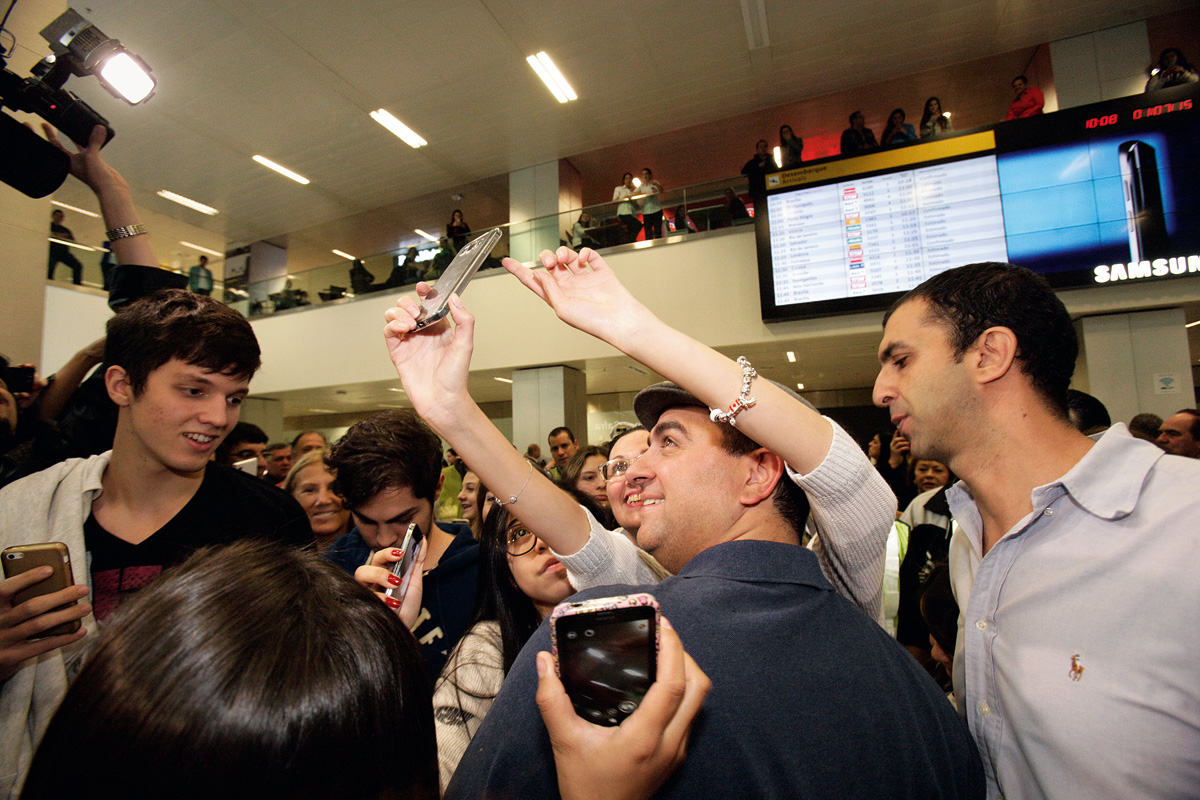 1. Cake Boss – Buddy Valastro

The chef in the Terraço Italia kitchen: charismatic, he has more than 5 million fans on social networks

2. Cake Boss – Buddy Valastro

Brazil home soccer jersey

3. Cake Boss – Buddy Valastro

Landing in Guarulhos on Wednesday (July 1st): multitudes wanting selfies

4. Cake Boss – Buddy Valastro

Eyeing the cannolis in Bixiga: he wants to sell more than 3 000 of these treats a day in the store he's opening here

5. Cake Boss – Buddy Valastro

The crowd in 2014 during an event at the Eldorado shopping mall: one of the possible locations for the bakery

6. Cake Boss – Buddy Valastro

As host of Batalha dos Confeiteiros Brasil TV show

7. Cake Boss – Buddy Valastro

Favorite brands: Gucci, Ferragamo, Chanel and Louboutin

8. Cake Boss – Buddy Valastro

Buddy at InterContinental Hotel

9. Cake Boss – Buddy Valastro

Cannoli at the italian neighbourhood Bixiga

10. Cake Boss – Buddy Valastro

At Our Lady of Achiropita church

11. Cake Boss – Buddy Valastro

During a culinary tour, at the Spadaccino cantina: an ode to the pleasure of eating and critiques of super healthy eating

12. Cake Boss – Buddy Valastro

Having dessert at Dulca

13. Cake Boss – Buddy Valastro

The original Next Great Baker: here, it will be Batalha dos Confeiteiros Brasil, with a live finale on Dec. 2

14. Cake Boss – Buddy Valastro

In his room at the InterContinental, where he is staying for one month: almost R$ 50 000 in lodging

15. Cake Boss – Buddy Valastro

The Transformers cake, 3 meters tall and weighing 1 ton: giant cakes can be made to order here

16. Cake Boss – Buddy Valastro

The Valastro Family: the wife Lisa and the kids Sophia, Buddy Jr, Marco and Carlo
On the morning of Wednesday, July 1st, a little snag delayed the arrival of one of Sao Paulo's most beloved international chefs. In the city for a month of professional engagements, Bartolo Valastro, Jr. – who goes by Buddy Valastro, but who rose to fame on TV with the nickname of Cake Boss – aroused the suspicion of customs agents due to the contents of his luggage.
Wearing a Rolex on his wrist, he was bringing in another four designer watches in his bags, setting off the custom agents' smuggler alert. It was only after an hour of conversation that the authorities understood that this was just part of the extravagant style of the New Jersey-born descendant of Italians.
+ Leia a reportagem original em português
At 10 in the morning, as he took his first steps into the main hall of Guarulhos International Airports wearing a pair of Loubutin sports shoes, the sought-after brand with the red soles (that's right, they make them for men), the shouting began. "Guys, it's Cake Boss!" a young girl said, and that quickly turned into more than 100 people clamoring for selfies and hugs.
This excitement gave the 38-year-old businessman a good sampling of what he would encounter during his stay. He had reserved the month of July to roll up his sleeves and get to work on his three big projects in Sao Paulo. He is starting to plan for the 2016 opening of the first branch of his Italian restaurant, Buddy V's. He is rushing to inaugurate by December the Carlo's Bake Shop bakery, the brand's 12th store and the only one located outside of the United States.
On Monday (July 6) he began taping the reality show Batalha dos Confeiteiros Brasil, the local version of Next Great Baker. The winner will get to manage his local bakery for a year, earning a salary of between R$ 15 000 and R$ 20 000 a month. Produced by Endemol Shine Brasil, the show, with 10 episodes, will air Wednesdays at 11pm on Record, with reruns airing Tuesdays on Discovery Home & Health. The premiere on Sept. 30 will have 14 contestants. In a live Dec. 2 broadcast, the show's boss will choose a winner from among three finalists.
With four TV shows in the US about the culinary world, Valastro has been seen in 220 countries and territories, and in 45 languages. Around here, the pay-cable channels Discovery Home & Health and TLC currently broadcast two of his shows: Cake Boss, about what goes on backstage at his family owned business, the Carlo's Bakery chain of bakeries; and Kitchen Boss, in which he teaches recipes.
Continua após a publicidade
+ São Paulo: the best things to do in the city
With 4 million fans on Facebook and 1 million on Instagram, he tends to draw big crowds across the world, but he hadn't experienced anything like the level of popularity he felt in the capital city of Sao Paulo last July. That was when fans stood in line all night and packed the Eldorado Shopping mall in order to watch him during a live cake decoration demonstration. As a result of the demonstration, traffic stopped on the nearby Pinheiros Highway, despite it being Sunday. "It was 10 000 people yelling my name. I was moved, and realized at that moment that we needed to invest in this city" – words from the visionary whose net worth is estimated at $10 million.
The bakery in Brazil is a result of a partnership with Casa Bauducco. "In May of 2014, we had our first meeting in New Jersey," says Carlo Bauducco, director of new business. The Brazilian brand will take care of logistics and infrastructure, but won't put its own products on the shelves. The star will be responsible for the menu and for recreating the Carlo's Bakery "experience." There are plans to expand in the city and to other state capitals. "In the next five years, I want to have 50 locations across the world, and I hope that some of these are in this country," Buddy says. The chef also will be, until 2018, the U.S. face of the brand that was born in the Brás neighborhood of Sao Paulo. "We will open our first plant in Miami in 2016, but starting this year, Cake Boss will already be the celebrity spokesman for our panettones," Bauducco says.
+ Alex Atala's book: D.O.M. – Rediscovering Brazilian Ingredients
At its U.S. locations, in cities such as New York and Las Vegas, Carlo's Bakery has the feel of a tourist attraction, oftentimes with long lines. "At least 20% of our clients at the New Jersey store are Brazilians," estimates Mauro Castano, his brother-in-law and right hand man. In the next few days, the partners should settle on a location in Sao Paulo: for now, the choice is between the Eldorado and Morumbi shopping malls. The menu should be similar to that of the original location, with close to 70 varieties of sweets, but with some Brazilian touches such as 'brigadeiro' cannolis. The viewing window where it's possible to see the bakers at work will also be copied here.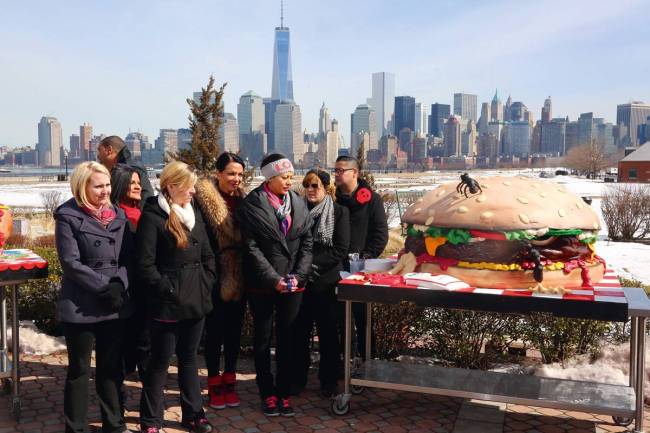 While he works out the store's final details, Buddy has put in 11-hour days at Batalha dos Confeiteiros Brasil. "He is 100%a professional and 0% a diva. His only request was: 'I don't want any time off during this month in Sao Paulo,'" says Marcello Braga, general director of Endemol Shine Brazil, the show's producer. The taping marathon began on Monday (July 6) and will go until the 31st, taking place at a university kitchen in the West Zone of Sao Paulo and at the network's studios in the Barra Funda neighborhood. "Three participants cried when they met the host face to face," says Paulo Franco, supervisor of art and programming at Record. The executive accompanied the first day of shooting.
The American arrived at 9 in the morning with his team and checked the position of every camera and work station. Before that, he had determined the list of equipment that would be included in the kitchen and who would be the contestants after analyzing videos from 100 professional bakers from across the country who had been recruited by the producers (there was no open call for contestants).
For now, Buddy only says a few basic expressions in Portuguese, such as "obrigado" ("thank you") and "boa noite" ("good night"). In order for the language barrier to not hinder the show's dynamic, everyone on camera uses earphones with simultaneous translation. "These candidates surprised me," he noted after a day in the studio. The star knows how big of an opportunity this is for the contestants. He became famous himself after taking part in a cooking reality show in the U.S. in 2009. He ended up losing, but, thanks to his charisma, was asked to host his own show.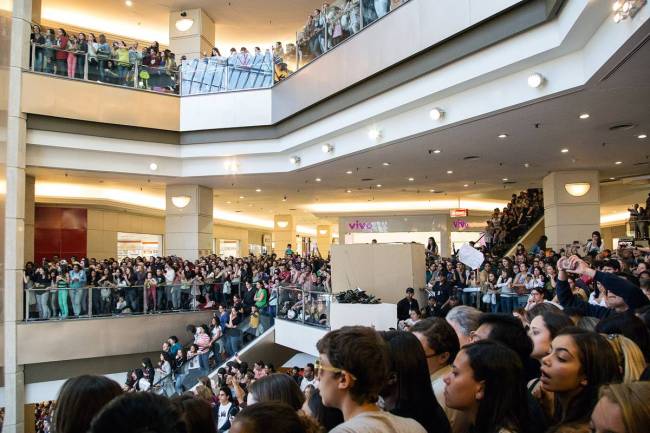 According to Record, this personal magnetism has proven to be profitable. "Minutes after presenting him at the press conference in February, the phones at our commercial team began to ring," Franco says. As of now, five sponsorship slots have been sold, with a gross value of R$ 24 million each – although in practice these values are usually discounted 60% or 70%. He also has already signed 10 merchandising contracts valued at a total of R$ 3 million. It's estimated that Buddy gets a 30% cut of the advertising, in addition to his fixed salary, which is included in the total budget of R$ 5 million.
Although he's a workaholic and a moneymaking machine, the chef retains his friendly demeanor. He's earned his nickname "Buddy." He eats lunch with the show's production staff, whom he calls "family," and greets whomever he comes across with hugs and responds to photo requests with a big smile.
On Thursday (July 2), VEJA SÃO PAULO accompanied the baker from breakfast until nightfall for a culinary tour of the capital. First stop: Alexandre Leggieri's traditional cannoli stand in Praça Dom Orione, in the Bixiga neighborhood (with a requisite stop at Our Lady of Achiropita church where he lit a candle for his mother, Mary, who is battling amyotrophic lateral sclerosis, an incurable degenerative disease), lunch at the Spadaccino cantina in Vila Madalena, and sonho pastries and cakes at the Dulca sweets shop in Sala São Paulo. To wrap up the day, slivers of parmesan cheese accompanied by red wine at Terraço Italia downtown.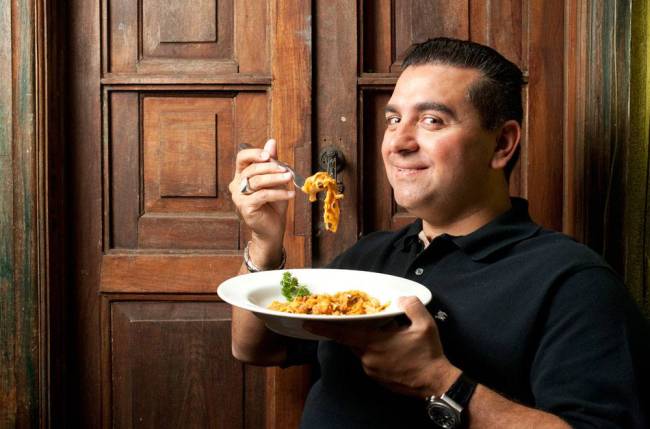 He tried all 28 of the items offered and, always courteous, said that everything was delicious. "I'm not finicky about food." Sometimes he takes his sons to McDonald's. "To preach that we should only eat healthy dishes is as utopian as seeking world peace. Food has to do with the moment, with the people around us, and with leisure," he said when the subject turned to the the granola-y brand run by Jamie Oliver, another popular TV chef who opened the Jamie's Italian restaurant in the city. Upon learning that his rival didn't show up for the inauguration of his São Paulo location, he needled him. "I respect Jamie, but I'll just say the following: I have Italian blood, I know what that country's food is like, and, when I open any business here, I'll be present."
Before the finale of Batalha dos Confeiteiros Brasil in December, Buddy will return to São Paulo in August. On the 11th and 12th of that month, he'll take a starring role in the Cake Design/Expo Brasil Chocolate event at the Frei Caneca Convention Center. He'll make four presentations and have lunch with 10 participants selected by lottery. That same week, he'll tape a show that's been kept under wraps: an hour-long special for the Discovery Home & Health channel that should air early in 2016. It will involve a cooking challenge alongside other local chefs. This time, however, the backdrop will be Rio.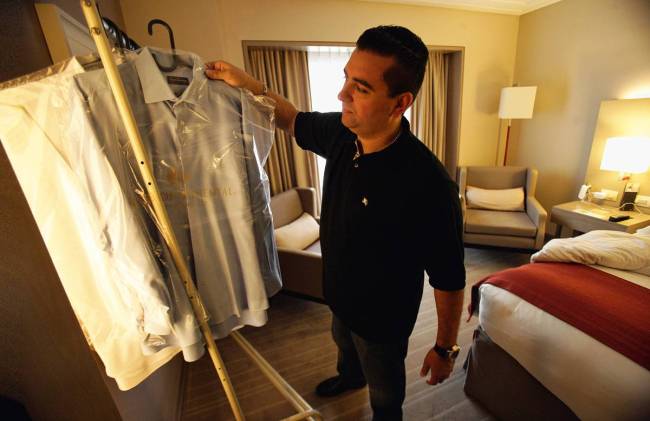 Spending the day with the chef feels like being in one of his reality shows. At every moment, one of the 18 relatives who work for the group call him on his iPhone 6, which blares the theme song from The Good, the Bad, and the Ugly. He arranges details of his August trip to Mexico with his right-hand man Mauro, gives his brother-in-law Joe a scolding as a result of a cake project that seems to have gone off the rails, and so on. "I'm the youngest, but I conduct the family business because I'm a born problem solver."
His wife, Lisa, and their four children will arrive in the city on Friday (July 17). They'll stay with him until the end of the month. A section of the 13th floor of the InterContinental hotel on Alameda Santos, with three rooms of 60 square meters (646 square feet) each, has been reserved for the Valastros.
Buddy has set himself up in a suite with a living room, a bathroom full of L'Occitane products, an additional clothes rack for his dozens of name-brand shirts and pants, a king size bed with Trussardi 300 count Egyptian cotton sheets, and a selection of pillows at his disposal. The room has a daily rate of R$ 1,600 (or about R$ 50,000 for the entirety of his stay) and has already served as a refuge for other celebrities, such as the musician B.B. King and the singer Demi Lovato. "I travel a lot and accumulated 300,000 miles last year, but I've never spent so much time away from home."
During an informal chat, he asked: "You mean that there is good real estate here for a million dollars? Maybe I'll buy something in Sao Paulo to spend more time here." And he went on, with the same friendliness as always: "I liked everything in this city," he praised. "Even the traffic isn't all that bad." Isn't he sweet?
The sweet life
The ingredients of the TV phenomenon
Name: Bartolo Valastro Jr.
Family: born in New Jersey, the youngest in a middle class family of five kids. He is married to Lisa Valastro, 35, with whom he has four children: Sophia (12), Buddy Jr (11), Marco (7) and Carlo (4)
Physique: 1.69 meters and 102 kg
Television: has four reality shows: Cake Boss, Kitchen Boss, Next Great Baker and Bakery Boss (for now, only the first two are airing in Brazil, on Discovery Home & Health and on TLC)
Start in TV: between 2007 and 2009, participated in three seasons of the Food Network Challenge reality show in the U.S., but lost. Because he was the most charismatic contestant, in 2009 he got a show all for himself, Cake Boss, which has already aired in 220 countries and territories
Faith: catholic, he goes to mass on Sundays and always carries with him his medal of St Anthony, of whom he is a devotee
Brands: loves Gucci, Ferragamo and Chanel. Uses a Rolex on his wrist and wears Louboutin shoes.
Fortune: appears on lists of the world's richest chefs, with a net worth estimated at close to $10 million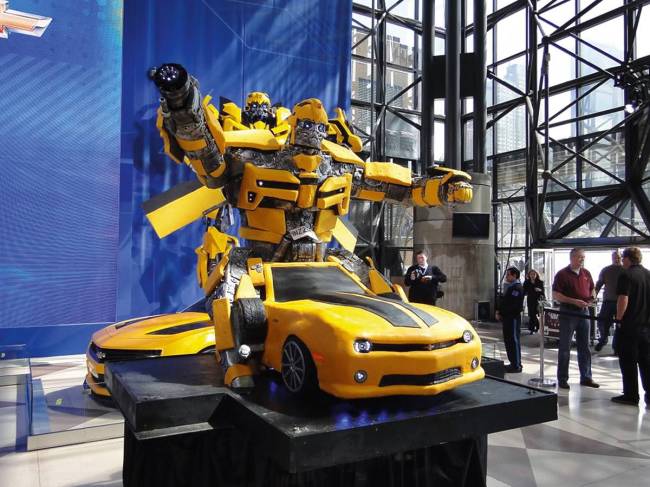 Heavy portions
Some numbers from the reality show, which premieres Sept. 30 on Record
1 ton of fondanticing
160 people work on the reality show
200 molds for decorations
400 kilos of flour
500 mold for cakes
600 kilos of chocolate
5 million reais is the cost of production
5 sponsorship slots have been sold
The fantastic Sao Paulo factory
What the first Carlo's Bakery branch outside of the US will look like
Investment: R$2.5 million (in partnership with Casa Bauducco)
Area: 200 square meters, with decor almost exactly like Carlo's Bake Shop in Hoboken, NJ, the main setting of the Cake Boss reality show
Support: Mauro Castano, Buddy's right-hand man and also well known from the TV show, will spend a month in the city to train the Sao Paulo staff of close to 50 people. Buddy and his family already confirmed their presence for the grand opening
Menu: similar to the U.S. locations, with an average of 70 items, but with Brazilian touches such as brigadeiro cannolis and carrot cake
Prices: the expectation is to sell cupcakes and cannolis starting at R$6. A decorated cake for 20 people will cost approximately R$120
Souvenirs: the store will also sell licensed products such as shirts and aprons
Big Brother: clients can watch the bakers in action through a window, similar to what happens at other locations
Supercakes: customers can special order some of the famous giants seen on TV (in the photo, the cake inspired by the Transformers movie). These will be produced at a 300-square-meter Casa Bauducco plant in Guarulhos
Continua após a publicidade